If your children have been playing Minecraft on their own, they will eventually want to play with others online.  Playing Minecraft on a public server can take the Minecraft experience to a whole new level.  There is a large community of players to make friends with and collaborate with, which can help your children learn social skills such as cooperating, compromising and problem-solving.
You may be thinking: this is all great in theory, but are public servers safe for my kid?  If they go on a public server, how will I know they will be protected from bad language or online predators?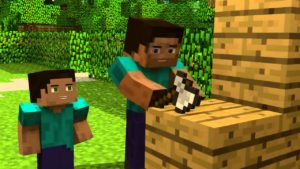 AWESOMEHEROSTEVE.net was founded by Steve and Adam Haney.  Our Goal was to provide Minecraft players access to interactive worlds that are appropriate for all ages.  Our servers employ automatic filtering to prevent swearing in text chats, as well as other technologies to detect and act on inappropriate behavior.
To have your child's Minecraft account added to our private server whitelists, please complete our Whitelist Request Form.
If you have any questions or comments, please send them to: steve
@awesomeherosteve.net.  Thanks!